P.N. footpaths Cebollera mountain range
2, La Virgen footpath
Villoslada (00 min) In front of the court wall, take the path that starts at the other side of the road and that crosses a gate. Go up on the hillside following the Iregua River course among holly trees and oaks. From the path, at the other side of the river, you can see the Santa María Chapel and the camping. After the bridge with two gates over the Las Rameras Stream, you will reach a trail. Las Rameras Trail (55 min) Cross a trail to ascend some rocks. From there, turn left to ascend among Scots pines and beeches. Pass another trail and continue in the same direction towards the La Romanizosa Fountain. After passing a clearing, the path descends among pine trees until it reaches a fence that goes on until the Chapel and Fuente Chilena. Lomos de Orio Chapel (2 h 20 min) End of the hike.
Villoslada de Cameros is a municipality in the autonomous region of La Rioja. It is 50 km from the region's capital city and stands at 1,072 metres. The municipality covers 94.56 km² and has a population of 362.-Location: It is part of the district of Torrecilla en Cameros. It is in the far south of the Demanda Mountains, upstream of the River Iregua. -Area: 94.5 km2. -Height: 1,072 metres. -Economy: The municipality's economy centres on livestock farming and forestry.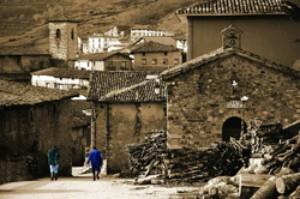 Natural values
The banks at the high course of the Iregua River are located in a densely-forested mountain environment where you can find Scots pine, beech and Pyrenean oakwoods on the hillsides and shade-loving vegetation such as willows, ashes, lime trees and hazelnut trees down in the valley. Apart from being a Natural Park, this area is included under the Natura 2000 network (Mountain ranges of Demanda, Urbión, Cebollera and Cameros), which comprises both the SPAB (Special Protection Area for Birds) and the SCI (Site of Community Importance) previously designated with that same denomination.
Información turística
Natural Park Interpretative Centre. Villoslada de Cameros. Phone 941 468216 Fax 941 468224

Transhumance Centre. Venta de Piqueras N-111, km 272. Phone 941 468216 Fax 941 468224

Patchwork Centre. Villoslada de Cameros. Phone 941 468068 / 941 468174

Ethnographic Museum. San Andrés, Lumbreras hamlet. Phone 941 468025 / 941 468245

Cameros El Hórreo Tourist Office. Pradillo. Phone 941 462151


SERVICES

VILLOSLADA DE CAMEROS

Restaurante Corona. Bar, restaurant. Phone 941 468005
Posada Hoyos de Iregua. Restaurant, accommodation. Phone 941 468273 / 666 413 481
Camping Site Los Cameros 1st Category Road to the Lomos de Orio Chapel, km 3. Phone 941 747021. Bar, restaurant Phone 941 747081
Rural House El Quemao. Accommodation. Phone 941 468242 / 647 958 241
Rural House Sancho Viejo. Accommodation; for rent in full. Mobile 608 571 348 / 647 571 348
Rural House Casa del Viejo Ayuntamiento. Accommodation; for rent in full. Mobile 629 077 004
Rural House La Media Legua. For rent in full o by the room. Mobile 659 908 306



LUMBRERAS

Venta de Piqueras. Next to road N-111, km 272. Bar, restaurant, accommodation. Phone 941 468144

Albergue El Asilo. Accommodation, leisure and nature activities, rental of climbing and sports equipment. Phone 941 468262 / 666 252 798
Rural House Casa Isabel. Accommodation. Phone 941 468088 / 679 830 248 / 941 204182
Rural House Casa Arca. Accommodation; for rent in full. Phone 941 228074 / 689 589 023



VILLANUEVA DE CAMEROS

Petrol station (Villanueva de Cameros). Phone 941 462308
Monday to Friday, 9 a.m. to 2 p.m. and 4 p.m. to 7 p.m. Closed on Saturdays, Sundays and holidays.



For more tourist information, visit www.lariojaturismo.com